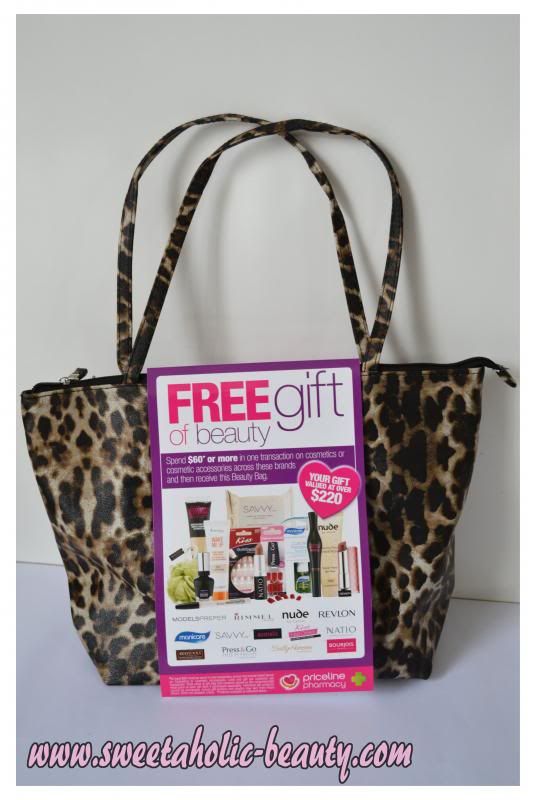 Everybody I know has been telling me that I planned the timing of my spending ban very well! I was off just in time to visit Salon Melbourne (you can see my post about that here) and I was also in time to catch the amazing Beauty Bag from Priceline! If you remember last years bag (you can read my shockingly bad post here) then you'll know why I would be excited! Sadly, I found I wasn't as impressed with the contents of this years bag. But let's take a look...

The bag itself was just as, um, unique as last years. I'm not a big fan of animal prints, but my sister is so this will be gifted to her. We did go in "halves" for this - meaning I actually bought her stuff. But I figured she can have some of the goodies too.

Contents of the bag. Not as great as last years, but granted there are a few goodies in there I can't wait to try out!
Kiss Everlasting French Nails & Press&Go Press On Manicure
I wasn't too thrilled with these, as I'm not a big false nails wearer! We'll see how they go, though!
Manicare Cuticle Therapy
Always happy to try a cuticle product, as mine are terrible! I currently use a Sally Hansen cream, but I'll be excited to see how this one goes!
Sally Hansen Complete Salon Manicure in Midnight in NY
When I first picked this out, I thought it was plain black and was super disappointed. Upon further investigation however, I discovered this was a gorgeous black glitter, which looks really lovely! I'll get some wear out of this!
Nude by Nature Mineral Primer
I actually already have this in a smaller tube, so I decided to give this one over to my sister. I remember not thinking much of it anyway, but this was long ago when they first released their brand, so I'm not sure if they've changed their formulas.
Revlon Lip Butter in Berry Smoothie
This is a cute addition but sadly I already have this colour, so it's been gifted to my sister! I was hoping for a colour I didn't already have (but that chances of that were fairly slim!)
Natio Lipstick in Flutter
I actually really like this colour, and the photo does not do it justice. It looks like a "my lips but better" colour which will be perfect for work or errands, and looks really easy to apply.
Bourjois Paris Volume Glamour Max Mascara
I actually already own this mascara (I got it with a Bourjois Paris GWP a while ago but haven't used it yet!) so I'm gifting this one to my sister. We're both big fans of Bourjois Paris mascaras, as they were probably the first ones we ever discovered ourselves!

Rimmel London Wake Me Up Illuminator in Flush of Pearl
I was happy to receive this, although it's such a small tube! I'm happy this came in the lightest colour, Flush of Pearl, as I think anything darker would have been unusable on me. I'll be interested to see how this goes with the Wake Me Up foundation!
Australis Paparazzi Perfect High Definition Concealer
I was so disappointed with the colour of this one. I was looking forward to getting this, but when I fished out my "medium/dark" shade, I was gutted! No way a medium/dark shade is going to be used by me, so any takers, I'm happy to give it away!
Eco Tools Loofah
Always happy to recieve a loofah, not too happy with the green though! Last year I got purple, so I really shouldn't complain!
Models Prefer Brow Highlighter
I'm actually really intrigued by this, as I have never seen it on shelves before. In saying that, I don't really use brow highlighters as my Chi Chi Eyebrow Lift Pencil (see my review here) has one already! My sister decided she wanted this anyway, so I guess I have no choice!
Savvy by DB Makeup Remover Wipes
Not overly interested in these as I have so many to test out already, although I can't say I'm not curious! My sister decided she was taking these as well, so I'll need to ask her what she thinks!
And I'm sure you're all wondering what I ended up buying to get this free beauty bag? Well, this time I didn't go overboard, I stayed well within the $60 limit...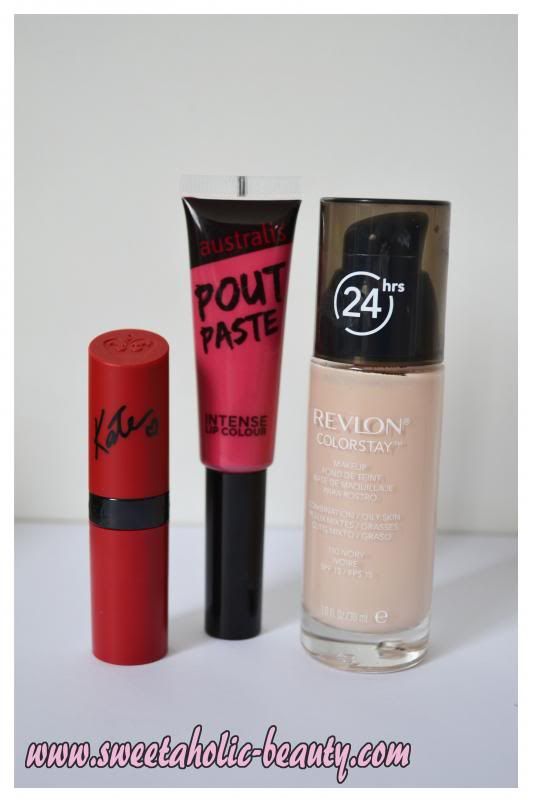 Rimmel London Kate Moss Lipstick in 113, Australis Pout Paste in Pash Me Pink , Revlon Colorstay Foundation
I mentioned before that I bought something for my sister to qualify, so we ended up getting the two Revlon Colorstay Foundation for $45 deal. I then added a Kate Moss Matte lipstick I've been dying to try since they were released! I'd also seen so much buzz around the Australis Pout Paste I figured I'd give this gorgeous colour a go!
Overall I'm not as pleased as I was with last years Beauty Bag. The contents were fairly similar but somehow I wasn't as excited to receive it. Last year I got two or three bags by the end, but this year I think I'll be sticking with one. (Maybe it's my post 100 Day Spending Ban mind talking?) Although I think it's a really great idea, and Priceline is a really good sport for setting this up! I have a lot more new goodies to test out, and a lot of them are things I probably wouldn't have tried for myself, which is pretty awesome!
Have you got your Priceline Beauty Bag yet? Or did you pass it up this year?


I've been trying the new Nivea Stress Protect Anti-Perspirant the last few weeks now. A while back, I used to use sprays religiously until I was suddenly converted to roll-on! I tested out both of the roll-on and the spray for the Nivea Stress Protect - now I'm ready to share my thoughts!

Now that I'm a fan of roll-on, I tested out this version of Stress Protect first. Nivea Stress Protect is designed to protect against sweating, particularly stress sweat! This is supposed to last 48 hours, ideally, however I don't think any anti-perspirant is that strong!

The design is also really neat! The roll-on is glass, and see through, so you can see exactly how much is left - which makes it easier to keep an eye out on how much you have left.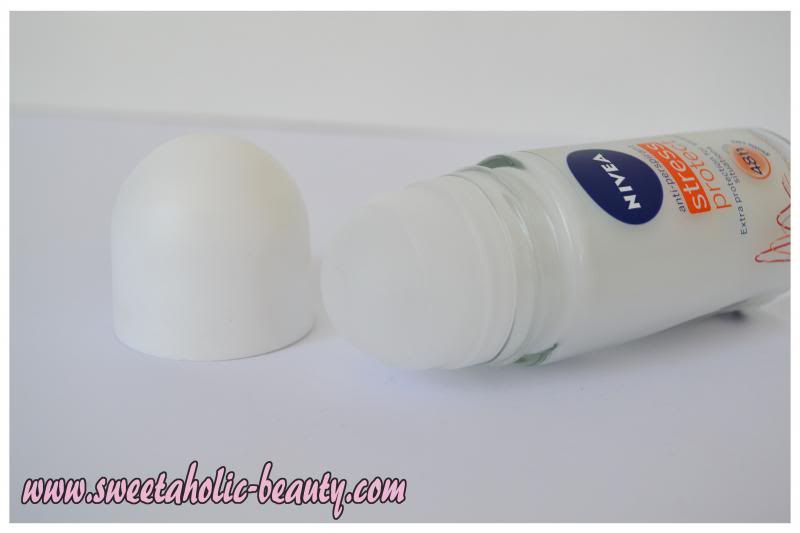 What I liked most about this is that the formula went onto the skin completely clear, unlike some anti-perspirants that go on white, and then go clear.

I found that this really did help with stress sweat! This is perfect for stressful situation, and kept me dry for much longer than other anti-perspirants - although I wouldn't say that it lasted the entire 48 hours!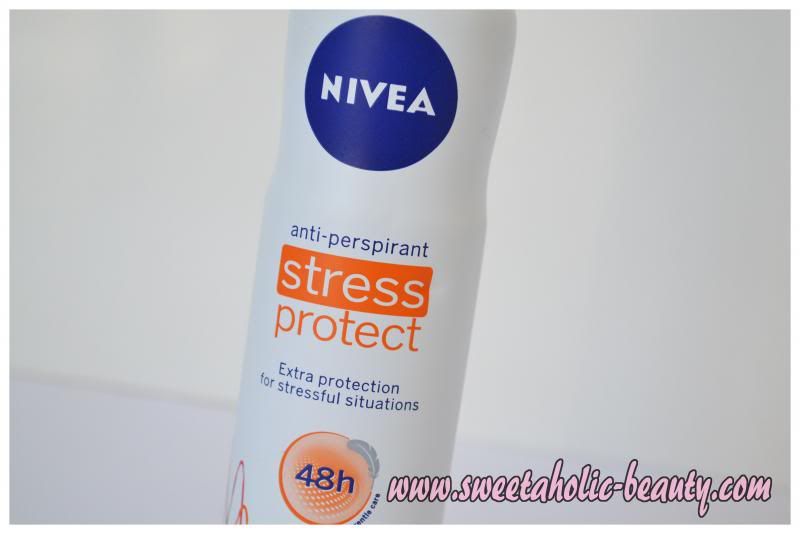 I was hesitant to test out the spray, because as I said, I was more of a roll-on fan. I actually threw this into my hand bag for emergencies. The scent is really neutral, also, and didn't have an overwhelming smell like some other sprays do.


I tested this out at work, after I felt myself get a little sweaty, and it really worked at reducing the sweat and really made me feel refreshed. I really liked the spray, as I felt it actually did just as good a job as the roll-on, if not better.

--

I think using these together is definitely a winning combination. I use the roll-on in the morning when I get up, for all day protection, and then I use the spray for any extra protection I might need throughout the day and night. Both of these worked really well at keeping stress sweat at bay - or any sweat for that matter.

Although I'm more of a fan of roll-on, I think that the Nivea Stress Protect Anti-Perspirant has made me a believer again! I usually find that a deodorant is either great as a roll-on or a spray, but not usually both, so I was pleasantly surprised by this duo!

I would definitely recommend picking up either one of these, or both of them if you like roll-on and spray!

Have you tried the Nivea Stress Protect Anti-Perspirant? If so, what did you think? Do you prefer roll-ons or sprays?
This product was provided for my consideration.
Now that Autumn has officially kicked in, us Aussie ladies can start wearing some really gorgeous colours on our nails! Coming this June is the new ORLY collection - Flash Glam Winter! There are some absolute stunning colours coming out in this collection, and today I have two beautiful shades to show off!
This winter it's all about glitter! So Go-Diva and Too Fab are both clear based polishes packed to the brim with bold glitter! I'm really excited to be sporting both of these this dreary season, as it's the perfect pick me up! This collection is designed to be worn over a matching creme black colour, but I'll definitely be matching them over a few other colours if I'm feeling particularly daring!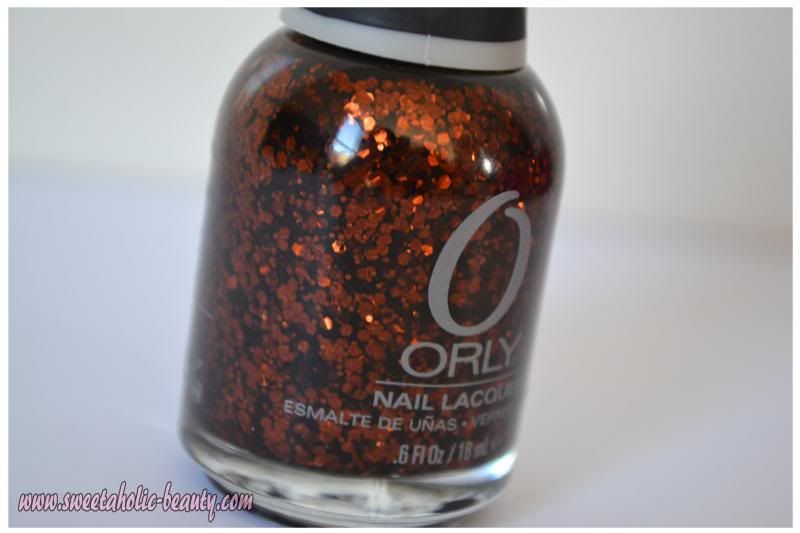 So Go-Diva is a chocolate brown glitter, which is truly unique to my nail polish collection. When I think of glitter, I usually think of bright and bold colours, and chocolate brown is not one to come to mind. In saying that, this glitter polish has really impressed me! The effect is really chic and not at all tacky, and oh so perfect for the cold weather!
Too Fab lives up to it's name, with big and bright gold glitter, it's truly a statement nail polish! While I have other gold glitters, I find this one really stands out from the lot and packs a real punch! Too Fab is a little less "safe for work" than So Go-Diva, but perfect for a special occasion!
Left: So Go-Diva. Right: Too Fab
The above swatches were done over a plain black polish (as the collection suggests) and with two coats of each polish. I found that even with one coat of polish, the glitter dispersion was really generous. The swatches remind me of autumn leaves, and I think mixing the glitters would be a deliciously fun idea and would look really nice together!
Overall, I'm so pleased with these ORLY polishes. These are actually my first ORLY nail polishes, but they will certainly not be my last! I'm really impressed with these polishes, and even wore Too Fab on my accent nail recently, and found the quality to be really great.
I'll definitely be picking up the rest of this collection once it hits shelves!
It's that time of month again when all the subscription boxes make their way to my front porch! This week my April Her Fashion Box arrived, and I was eager to see if they were able to top their first box. (You can see their first ever box here!)

I'm subscribed to the Feminine box, because I'm not Trendy whatsoever, and I thought that maybe Classic might be a little too plain for my tastes.
This month's fashion magazine went through all of the items like usual, but in a lot more detail than other subscription boxes. A lot of bloggers are saying this is where the money is going, and they are probably right, but I do like the extra effort that's gone into making this box stand out.
Lace Cuff
I was delighted to see that I received the black cuff in my box. I noticed there were too variations floating around, a gold cuff and a black cuff. Gold isn't really my thing (I got lucky in the last box too and missed out on the gold collar necklace!) so I'm really happy to get black. It can be stretched slightly for those with bigger wrists, but this fit mine rather snugly!
The one thing I do notice about the jewellery is that the price is rather steep. Many people are comparing it to something you might find in Diva or Lovisa, and while I have to agree, I will note that a lot of higher end companies that legitimately do sell these kinds of things for big bucks, also don't always have great quality either!
Schick Hydro Silk Razor


While I'm happy to receive this, I will admit it's not the most exciting product that could have been included! I've never used Schick razors before so I'm really happy to give them a go, as this is something I use a lot! I also love that this is a full sized product!
Model Co Lipstick and Lipgloss Duo
Personally I find these kind of things slightly on the tacky side, as they are a bit of a novelty, however I really adore the colour of the lipstick! It's the perfect nude (as the name suggests) for my lips, so I can see myself getting a lot of wear out of this. As for the lipgloss, I'm not sure how often I'll use it as I'm more a lipstick girl - but this will be perfect for trips or to even keep in my work bag for quick touch-ups! Nice to see another full sized product!
Model Co Black Eyeliner
Another full sized product! I've heard mixed reviews about this eyeliner. I'm not opposed to getting eyeliner (although I have so much of it already) as it always comes in handy! I'm wearing eyeliner constantly, touching it up constantly, so I'm always needing it! I love that this has a little sharpener on it also! I found the quality to be fine, so I'm not complaining!
Bondi Sands Self Tanning Foam
If you read my blog regularly, you'll know that I am not a tanner. A little while ago I was doing some research on tanning products, and what the best tanning products that us pale girls should be using. I stumbled across a few reviews on Bondi Sands, and I was impressed! I had completely forgotten about the brand (as I didn't see it in Priceline, probably) until I reached into my Her Fashion Box and pulled it out. Thrilled to have also received it in light/medium, I think I'll actually be giving this tanning product a go! I also love that this is Australian made, and it's yet another full sized product!


Bondi Sands Self Tanning Mitt
In addition to the actual self tanner, we're also given a self tanning mitt! I lovely touch to add this, as I probably wouldn't have used the tanner itself if I didn't get a mitt, because it would be oh so much trouble for me to head down to the shops and buy one! (I'm being serious here, I am really not a tanner!) So I'm happy that it's all been laid out in front of me, ready to try, so I'll definitely be giving this a go. Another full sized product - we've hit a home run here, guys! No samples?!
Bonus Item - Redken All Soft ArganOil
I received this as a bonus item, as I filled out a survey about the very first box. I thought this was such a lovely touch for them to send out a bonus item to those who made the time and effort to fill out the survey! It's a lovely 30ml sample bottle, which is just enough for Argan Oil in my opinion! This will definitely be used! (For those of you who didn't get the bonus item, don't despair! Her Fashion Box will have another survey up and running soon for this box, so keep an eye out on their website and you might score an item next month!)
Overall, I'm fairly pleased with this box. I know some people were a little underwhelmed, especially considering their first box was such a hit. At first I was a little underwhelmed also, but when I looked at everything altogether and realised there were literally no samples (aside from the bonus item) I was pretty impressed. I think Her Fashion Box are doing a pretty good job at trying to please their subscribers, and I really hope they keep up the good work!
You can sign up for Her Fashion Box here, where you can also find a lot of information, competitions, and surveys!
Did you receive your Her Fashion Box yet? If so, what did you think?
My celebration giveaway is finally over, and we have two lucky winners!

A big thank you to everyone who joined in! Don't worry if you didn't win, I'll have another giveaway running soon! In the meantime, I do have a current giveaway where you can win a digital subscription with Zinio! (More information on this giveaway here!)
I also have a flash giveaway on my Instagram page, where you can follow me here.

Congratulations to Nadine for winning the major prize, and to Jody who won the second prize for Australian's only! I'll be emailing you shortly, so make sure you respond!


Lately, I've been testing out a new night cream to see if I can find a cheaper alternative to my discontinued Lancome night cream! The Aveeno Positively Radiant Intensive Night Cream has had my attention for the last few weeks now, and I have to say that throughout testing it, my mind has changed more than a few times!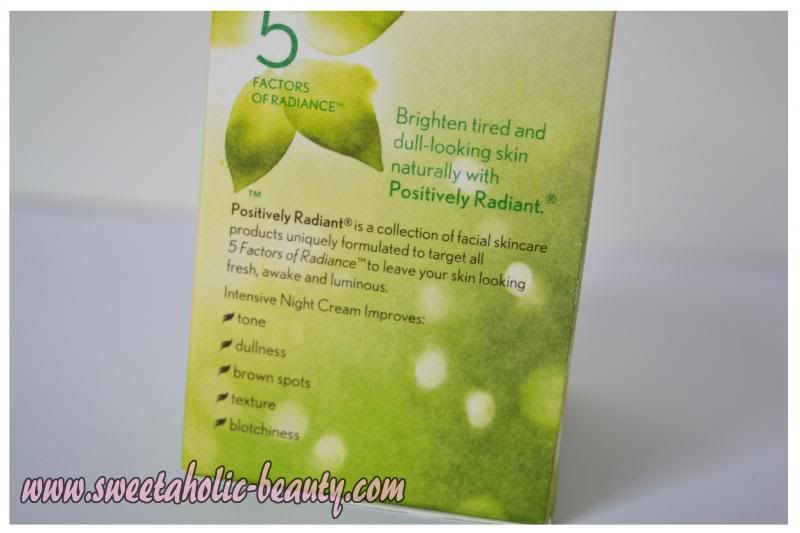 This night cream is specially formulated to target what Aveeno calls the "5 Factors of Radiance." Basically this means that this night cream will improve tone, dullness, brown spots, texture and blotchiness. Not to mention leaving your skin fresh, awake and luminous. So, Aveeno had a lot to live up to.
Like most night creams I've tried, this one also comes in a tub. I don't mind using a tub at all, and while most people will say it's unhygienic, I'm not putting a dirty finger into the cream - I've just hopped out of the shower! My fingers are definitely clean, so I'm not at all concerned about hygiene. (Same goes for day cream!)
One thing that sparked my attention was this little note on the side; total soy complex. I knew that it smelt/felt soy-like! I think this is really great, meaning that the ingredients are more natural that most.
The cream itself wasn't exactly what I'd call smooth. When I first used it, it felt a little clumpy. When I started rubbing into my skin, however, it felt fine. I was a little turned off by this, but for the sake of a review (and hopefully, radiant skin) I continued to use it. One thing I did find is that my skin did take a little longer to adjust to the cream, and I had minimal breakouts during the first week or so of using this. (These were extremely minimal, and I was sick at the time which could have also caused these!)
Do you see what I mean about not being entirely "smooth?"
After my skin adjusted however, I absolutely fell in love! The strange texture of the cream in addition to the soy-ish scent, became something I really looked forward to putting on my skin! (I know that sounds strange, but hear me out!) Having oily/combination skin meant I was usually too scared to put a lot of creams on my face, but this one is extremely light-weight, because it almost doesn't feel like a cream! I can't really put my finger on what it feels like exactly, but I find myself using a little more (at least more than I would if it were a normal cream) because I feel like I can without it making me break out.
My skin feels extremely radiant, and I think I look more awake just before bed than I do waking up! (Hmm I wonder if this comes in a day cream, too?) Once I got used to the uniqueness of it all (unique, but not at all unpleasant) I have decided it's doing my skin wonders! I've waited longer than my usual time-frame for reviews, only because I've enjoyed using this one so much that I'm not really to start reviewing any new night creams!
Overall, I'm so pleased with the Aveeno Positively Radiant Intensive Night Cream! I would absolutely repurchase this one, again and again, as I feel it really works well with my skin type! I did mention a slight soy-scent, which does disappear very quickly after application, so there's no need to be concerned about the scent. This has become one of my favourite skin care products so far this year!
Have you tried the Aveno Positively Radiant Intensive Night Cream? If so, what did you think? Given all that I've written, do you think you'd still give it a go?